Executive, Regional, and Ancillary
Danny Ingram
National President
Danny Ingram served in the United States Army from 1988 to 1994
.
Following a 1992 statement made in support of Bill Clinton's promise to lift the ban, Danny became one of the first soldiers to be discharged from the US military under the then new "Don't Ask, Dont Tell" law in April, 1994, 10 days before his ETS date. Sixteen years later, Danny was invited by the Obama White House to attend the Presidential Signing ceremony that repealed the DADT law. Danny serves as Treasurer of the DeKalb County Democratic Party and is a Senior Business Analyst at the Georgia Institute of Technology, where he was the recipient of the 2003 Don Bratcher Human Relations Award in recognition for his work in helping establish domestic partner benefits for University System of Georgia employees. Danny lives in Decatur, GA, with his partner Harry. Highly active in various veterans issues, Danny is a Life Member of AVER, AMVETS, Veterans For Peace, and the Alexander Hamilton Post of the American Legion.
Julz Carey
National Vice President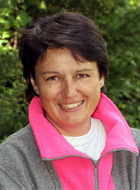 Julz Carey served from 1976-1997 in the US Coast Guard, and retired as a Chief Boatswain's Mate. During her time in service, she worked mainly in search and rescue, federal law enforcement, and adult education, plus five years as a recruiter. She now lives near Seattle, WA, where she served for several years as the Chapter President of AVER Puget Sound.
James Apedaile
National Secretary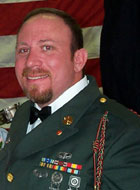 Staff Sergeant James Apedaile, US Army Retired, served this country for almost 8 years before taking a medical retirement in 1991. He has a Master of Science in Management in Information System Security from Colorado Technical University, a Bachelor of Science in Technical Management and an Associate of Applied Science Degree in Network Systems Administration both from DeVry University. He has been a member of AVER (formerly GLBVA) since 1994. SSG Apedaile has served on board several times to include National VP for Veteran Affairs 1995-1997. He has previously served as Region IV VP from 2003 to 2006, in which time the Region grew by adding 2 new chapters. He recently served as the Region IV VP from 2008-2010 position he was asked to fill when it was vacated. He is currently serving as the National Secretary. He has also served on the Board of the Rocky Mountain Chapter as Vice President twice in 1995-97 and again 2003-2004. James also serves as Chief Systems Administrator for AVER's national IT & Web Development Committee. James brings not only years of dedicated service to this country we all love, but also years of service dedicated to "lifting the ban".
James P. Donovan
Past President & Membership Chair
Chief Donovan is a retired chief petty officer who served 24 years in the Navy.He has served in various roles on the AVER board for more than ten years, including as the AVER national president, then past president, now twice. As Past President, he also continues to serve the organization as the National Membership Chair. In early 2005, Chief Donovan spearheaded the creation of and became the first coordinator of the Tom Dooley Chapter for at-large AVER members. Chief Donovan lives in Plainville, IL, with his husband of many years. In 2008, they were legally married in California, prior to the November passage of Proposition 8.
Denny Meyer
Vice President – Region I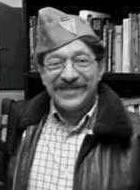 Born to Holocaust refugees at the close of WWII when Truman was President, Denny began a lifetime of activism at the age of 13 when he joined a NAACP picket line. Since then he has battled for Gay rights, Women's rights, Transgender rights, and GLBT veterans rights. During the Vietnam Era he left college and volunteered to serve his country, joining the Navy (either for love of the sea or for the dress blue bell bottom 13 button uniform). In less than 4 years he was a Petty Officer Second Class. Later he worked for the Army Reserves as a civilian administrator and, after joining his reserve unit, rose to Sergeant First Class. After AIDS took the life of his love of 20 years, Denny became inspired to found the New York Chapter of AVER – AVERNY, he served as Region 1 VP for a number of years, and currently serves as both the AVER national Public Affairs Officer and Vice President of Veterans Affairs. He is currently battling cancer. Denny can be contacted via email or by phone at 718.849.5665.
Region I consists of the states Connecticut, Delaware, Maine, Massachusetts, New Hampshire, New Jersey, New York, Ohio, Pennsylvania, Rhode Island, Vermont
Danny Ingram
Vice President – Region II
Region II consists of Alabama, Washington DC, Florida, Georgia, Kentucky, Maryland, North Carolina, South Carolina, Tennessee, Virginia, West Virginia
James Darby
Vice President – Region III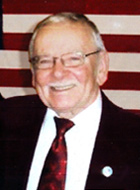 Jim Darby served in the United States Navy from 1952 to 1956. As a Communications Technician Second Class he held a top secret security clearance as a cryptographer and Russian linguist. After Great Lakes, Bainbridge Island, WA and Washington, DC, he was sent off to French Morocco and Germany, also serving time on the U.S.S. Midway, the U.S.S. Bennington, and the U.S.S. Des Moines. He was awarded the National Defense Service Medal and the Naval Occupation Service Medal. After receiving an Honorable Discharge upon the completion of his military service, he became a Public High School Foreign Language Teacher of Spanish, French and English. In 1985, he was honored as The Outstanding Teacher of the Year. He was inducted into Chicago's Gay & Lesbian Hall of Fame in 1997, for his work with LGBT veterans. Jim has served GLBVA/AVER in many capacities at the local and National levels. At the National level he has been Regional Vice-President for Region III, Secretary, Vice President and President. He was the Editor of The Forward Observer from 1995 to 2004, and has recently accepted that position again. Jim has been a member of GLBVA/AVER since 1991. He resides in Chicago with Patrick Bova, his partner of 46 years. Together they have attended every Convention and Conference since 1992.
Region III consists of the states Iowa, Illinois, Indiana, Michigan, Minnesota, Nebraska, North Dakota, South Dakota, Wisconsin
Steve Loomis
Vice President – Region IV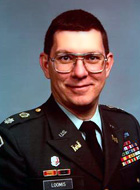 Lieutenant Colonel Steve Loomis served in the U.S. Army from 1967 to 1997. He enlisted, completed Infantry Officer Candidate School, and within six months was sent to Vietnam where he served in the Central Highlands as an Infantry Platoon Leader with the 3d Bn 12th Inf Regt. In combat he was awarded two Bronze Stars, Purple Heart, Air Medal, and the Combat Infantry Badge. He returned to civilian life, joined the Army Reserves in Albuquerque, commanded an Engineer Company, served in senior staff positions for the 156th Area Support Group and graduated from the Command and General Staff Course on the Commandants List. He was Executive Officer of the 244th Engineer Battalion in Colorado. In 1986 he was promoted to Lieutenant Colonel and served as the Chief of Military Education for the U.S. Army Reserve Personnel Center. LTC Loomis served as a Division Inspector General, where he conducted a ground breaking sexual harassment survey that included analysis of perceptions of gays in the command just prior to Don't Ask, Don't Tell. As the Chief, Engineer War Plans for III Corps following the death of North Korea's Kim Il Song, he deployed to Korea in a war planning cell to rewrite plans for the defense of Korea. He was awarded four Meritorious Service Medals, for his work in peacetime and was selected for promotion to Colonel in 1995. While preparing for promotion, his home was arsoned and, during an illegal search, the Army discovered LTC Loomis was gay. He was discharged five days before he was eligible for his 20-year retirement. Choosing to fight his discharge, he won his retirement in the U.S. Court of Federal Claims in 2005. LTC Loomis is a founding member of the Bataan Chapter of the AVER. He has been interviewed on CBS 60 Minutes, spoken, and written extensively on gays in the military and actively supports gay rights. He enjoys the out of doors, photography, writing, and lives in Albuquerque with his Labrador Retriever, Alex.
Region IV consists of the states Arkansas, Arizona, Colorado, Kansas, Louisiana, Missouri, Mississippi, New Mexico, Oklahoma, Utah, Texas
Julz Carey
Vice President – Region V
Region V consists of the states Alaska, California, Hawaii, Idaho, Montana, Nevada, Oregon, Washington State, Wyoming
Denny Meyer
Public Affairs Officer / VP of Veterans Affairs
James Darby
Editor-in-Chief & Forward Observer Chair
The Forward Observer, AVER's national newsletter was put under committee control in November 2006, to help lighten to workload placed on any one volunteer. Assistant Editors are Secretary James Apedaile, and Bill Beaman.
James Apedaile
IT & Web Development Committee Chair
The AVER IT & Web Development Committee was founded in 2004. As AVER grows, we are always looking for new members to help divide content management duties. If you are interested in volunteering for this committee, please contact James for technical requirements.
Nancy Russell
Monument Committee Chair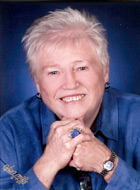 Nancy Russell served in the United States Army for 20 years, retiring as a Lieutenant Colonel. In her military career, LTC Russell was first a member of the Women's Army Corps, until it's integration in 1978 when she became a member of the Adjutant General's Corps. During her twenty year service, she commanded two companies and a battalion. She is a graduate of the Army Command and General Staff College. She was awarded the Army Commendation Medal and the Meritorious Service medal with two oak leaf clusters. Nancy founded the San Antonio Chapter in 1993 and was elected National President three times, in 1994, 1995-1996, and 2003. Nancy Russell has been a lifetime LGBT activist, having served as a Democratic party precinct Chair and as a delegate to Democratic Conventions, founding the Stonewall Democratic Club of San Antonio and serving as Vice President of the Texas Stonewall Democratic Caucus, as well as serving on the Texas Democratic Executive Committee. She is currently on the advisory committee of the San Antonio LGBT Chamber of Commerce, of which she was a founding member. Nancy runs her own real estate business, Rainbow R.E.Group where over 90% of her business is "family".
Convention Committee Chair
Judge Advocate General
Patrick Bova
National Archivist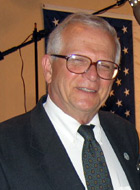 Patrick Bova has served AVER/GLBVA as National Archivist since 1993. A graduate of Georgetown University, Mr. Bova spent the last 38 years working as a librarian for National Opinion Research Center (NORC) at the University of Chicago. At the present time Mr. Bova resides in Chicago with his life partner of 44 years, Jim Darby.